Reiki Offers Endless Possibilities…
Reiki is the source of Universal Life Energy
and it's also the term used to describe the modality that accesses and transmits that energy. It's administered by "laying on hands" of a Reiki practitioner and is based on the idea that an unseen "life force energy" flows through us and is what causes us to be alive. If one's "life force energy" is low, then we are more likely to get sick or feel stress, and if it is high, we are more capable of being happy and healthy. Reiki intentionally channels 'ki' (chi) energies to promote balance and well-being. Reiki flows (or finds its way) to where it needs to go within the recipient to heal. 
The word Reiki is made of two Japanese words — Rei which means "God's Wisdom or the Higher Power" and Ki which is "life force energy." So Reiki is actually "spiritually or universally guided life force energy." 'Rei' represents the source of this energy and 'ki' represents the energy's movement within and around us.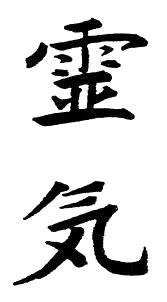 Reiki is:
a healing modality similar to but different from massage, acupuncture, acupressure, or shiatsu.
a Japanese technique for stress reduction and relaxation that also promotes healing.
an ancient Japanese technique whose healing finds its way to where it's needed in your body.
Benefits of Reiki:
Creates deep relaxation and aids the body to release stress and tension
Treats the whole body rather than addressing specific symptoms… Reiki goes where it's needed
Helps to control anxiety often associated with disease, illness or crisis
Enhances the immune system's ability to heal itself
Aids in the prevention of disease
Aids better sleep; reduces blood pressure
Strenthens intuition; promotes creativity and clarity
Works in perfect harmony with all other modalities and healing techniques
Serves as powerful tool for personal development, emotional clearning and spiritual awareness
Can be used in self-treatment
Pets respond wonderfully to Reiki touch…accelerates healing of physical injuries; promotes peace and calmness; treats behavioral problems like anxiety, chewing, biting, offers comforting transitional energy when it's time for your pet to depart from this world.
Reiki, in its purest form, is an uncomplicated system of healing. You don't have to believe in Reiki for it to work. Reiki works at the level of acceptance of the person who is receiving it. Acceptance is not a matter of faith or belief. Acceptance suggests that there is a willingness to move from a painful experience into a less painful experience…who wouldn't want that? The pain can be a physical pain or an emotional pain or discomfort that comes from unresolved issues that play in the background of our lives and affect our minds and hearts which, in turn, could very well be contributing to our physical pain and illness. These emotional blocks can impact us to the point that we aren't able to show up fully for life…life is short enough, why not choose to show up fully? One of the most incredible things about Reiki is that 'it' goes where it needs to go in your body to move the energy blockages to aid in your healing process and help you create the life you wish to live.
Fees:
You can feel the healing effects of Reiki with one treatment. One of the amazing things about Reiki is that it stays within your body continuing to heal for as long as it's needed. What that means is that the more Reiki you receive, the deeper the healing is..that's why I offer healing packages for multiple sessions that you might want to plan to use on a weekly basis, every 2 weeks or once a month for a series of months. I stay in touch with my clients after a Reiki treatment…I call the day after a treatment to hear how you're feeling and what has transpired as the Rieki continues to work; and then I call a few days beyond that time to see if the effects are still being felt..in that way we can determine the optimum time for a follow-up session to continue the healing. At my home office (Gold Canyon):
Reiki session $ 60
Package of 3 Reiki sessions $165 (save $5/session)
Package of 6 Reiki sessions $270 (save $15/session)
Coming to your home (E Valley)*:
Reiki session $ 70
Package of 3 Reiki sessions $195 (save $5/session)
Package of 6 Reiki sessions $330 (save $15/session)
Distance Reiki…you can be anywhere in the world and I can share Reiki with you..
Distance Reiki session (approx. 40 min) $ 40
Distance Reiki 3-session package $100 (save $7/session)
Distance Reiki 6-session package $165 (save $13/session)
*Note: If distance is greater than 50 mi RT from Gold Canyon, an additional $10 will be charged.