Pain in any part of your life has met its match!!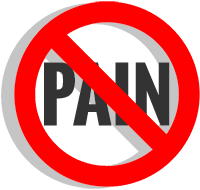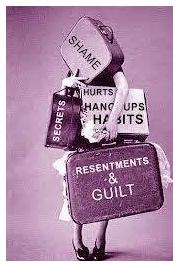 In an effort to continue to find ways to 'enhance your health and well-being' and to help you create the life you want to live, I'm very excited to introduce you to 'The Emotion Code®,' a technique to release trapped emotions that are the root cause of pain and havoc in all facets of your life. This is one more energy-focused process that I've integrated into my practice to help support balance in your life at the physical, emotional, mental and spiritual levels, including relieving physical pain. AND this healing modality can be used with your pet as well.
To best describe trapped emotions, let's look at the term 'emotional baggage.' Just about everyone has some amount of emotional baggage from painful life events..and trust me, it's not all in your head!! With coaching clients I see it when we face an obstacle that simply won't let the client move forward to implement the steps that they desire and steps they might have tried to make repeatedly only to sense failure because they fall back into old patterns. Try as they might, the blockage is taking over the process and they've hit a wall. This 'obstacle' or blockage is usually a trapped emotion that is a bit of emotional energy that was created by you or an emotional event that you experienced that 'got stuck' somewhere in your body. If you've spent time on my site, you have noticed that I talk about 'energy' and the fact that 'everything is energy'..well Trapped Emotions are literally balls of energy, vibrating at different frequencies depending on what the emotion is (for example, Anger is a different vibration than Sadness or Insecurity). Negative emotional energies, or trapped emotions, can become lodged in your body. They disrupt the normal flow of energy in the body and can contribute to physical discomfort (pain), disorders and eventually, diseases. It also causes emotional difficulties including depression, phobias, anxiety and SELF-SABOTAGE! These Trapped Emotions also effect on how you think, the choices you make, and how successful you will be.
The 'Releasing Trapped Emotion' Process:
Using muscle testing** I work with your energetic body–your subconscious. Your subconscious 'knows all' concerning anything that might have occurred in your life as well as gaining knowledge from all things around you whether you're aware of it or not. If you've driven by a billboard your body to 'read' the information whether you consciously remember reading it or not…that might be why there are times when you hear or see something that you can't recollect where you heard or saw it, but it's 'just there.' Just accept it as fact. This concept is similar to the description of the coaching process when you've heard that 'you have all the answers within'…coaching is simply providing assistance to pull forth the answers and take action to implement what needs to be done.
In this process, I use a chart of 60 emotions listed in columns and rows. The body gives us the guidance to narrow the list down to the trapped emotion that's causing the issue at hand. The emotion is then 'energetically' released through the use of a magnet. If we were seeking a trapped emotion related to a physical pain, in most cases, the client feels immediate relief from the pain.
The body will let us know if we need to repeat the process to continue to relieve the pain. With emotional pain it might be more subtle but with follow-up, we find that we've relieved that pain as well. This system truly gets to the root of pain (sciatica, knee, back, migraines), disease, emotional discomfort (anger, anxiety, depression, etc.), chronic conditions (arthritis, fibromyalgia, high blood pressure), and more. The body even tells us when it's done releasing emotions on a specific issue and when the session is complete. I invite you to call to make an appointment for a session.
Because we are working at the energetic level, this technique can be done at a distance.. we don't even have to physically be in the same room.
Note: Animals also trap emotions from painful experiences. This technique works extremely well for your pets (horses, dogs, cats) to address behavioral issues or
fear and anxiety.
Fees
As a stand-alone session, addressing specific issues that the client is aware of $ 50 per session
Package of 3 sessions $135 ($15 savings)
Package of 6 sessions $240 ($60 savings)
Coaching clients: Releasing trapped emotions process
If incorporated into coaching session, no additional charge
If time tacked onto coaching session $ 35 per session
Pets
20-30 minutes $ 40 per session
Package of 3 sessions $105 ($15 savings)
**  Muscle testing is a way to ask the body what it knows. Can be done by holding an arm straight out from your body and the 'tester' asks a question and exerts downward pressure on the arm.. if the answer is 'yes' the arm holds firm; if it's 'no' the arm collapses to your side. The body has an amazing ability to know what is true for it and what isn't true for it. It shows a truth by getting stronger, and it shows an untruth by getting weaker. Muscle testing is testing that stronger/weaker factor in any given situation. Can be used to test vitamin supplements, food allergies, help resolve buying decisions… anything.