The uses of essential oils are vast and represent a well-documented model for improving overall health. I have chosen to bring essential oils into my life and business because of the healing properties that are in line with the work I do as a life coach and energy practitioner to ultimately 'enhance your health and well-being so you can live the life you've always dreamed of living.' My desire is to bring that health and well-being to my clients at the emotional, physical, mental and spiritual levels..which includes relieving physical pain. The addition of Essential Touch Technique and essential oils to my practice provides me many more healing alternatives to help you live the best life you can.
Remember that 'everything is Energy' and that includes essential oils…they have an energy component directly from nature. The natural aromatic compounds are found in the seeds, bark, stems, roots, flowers and other parts of plants. Parts of plants have been used throughout history in many cultures for their medicinal and therapeutic benefits. Modern scientific study and trends towards more holistic approaches to wellness are driving a revival and new discoveries of essential oil health applications.
One such application is the Essential Touch which I invite you to experience with me.
Fee
30 min session – $ 45
Combined with coaching session (1.25 hrs) – $100
Simply Stated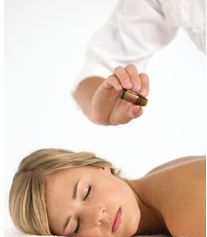 The Essential Touch Technique operates within the scope of the 'whole body energy system' encompassing traditional Chinese medicine, Acupuncture, Reflexology, the meridians, energy zones and specific body organ points.
Eight different oils are applied using a specific technique to the back, ears and feet. Each oil has its specific powers:   antiviral, antibacterial, antimicrobial, anti-inflammatory.
The combination of this specific technique of touch with the aromatic property of the specific oils, makes a session of the Essential Touch Technique a truly healing experience.
The Details
The Essential Touch Technique addresses four systemic constants:
Stress (we each have our own definition of stress in our lives)
Toxic Insult (disruption/weakening of our immune system)
Inflammatory Response (how our bodies recognizes and defends itself against bacteria, viruses, etc…brings about chronic illness and disease), and
Autonomic Imbalance (the parts of the nervous system that operate below the level of consciousness such as heart rate, digestion, respiratory rate, etc.

The sympathetic nervous system drives 'quick response.'
The parasympathetic nervous system drives 'slower activation.'
Ordinarily the body is continually adjusting and readjusting between these 2 systems..called 'homeostasis.'
An imbalance takes place when the sympathetic nervous system is on overload 'fight or flight' and the parasympathetic nervous system can't react strongly enough to bring about balance or 'homeostasis.'
The outcome of chronic sympathetic stimulation can lead to weight gain, mental fatigue,glandular and hormonal imbalances; the immune system may be diminished and diseases involving chronic inflammation and emotional reactions such as anger, fear, unwillingness to forgive, isolation, lack of sleep appear.